As a business owner, have you ever wondered how other companies store or transport materials around their facilities efficiently?
Is your team tired of lugging trash bins around twice a day, and convinced there's a better way?
There is, and the answer lies in hoppers – flexible containers designed to meet various needs and functions in your workplace environment.
Key Takeaways
Common hopper profiles can be used for both trash disposal or storage depending on your needs. Creekside Manufacturing offers a variety of hoppers with specialized features and materials to suit myriad applications. Our hoppers are user-friendly, cost efficient and feature packed – perfect for businesses looking to save time and money.
Self-dumping hoppers can be moved with a forklift and dumped forward with a lever from the driver's seat, perfect for conveying waste from indoors to a roll-off dumpster or recycling bin outdoors.
Our basic forklift bins are simple cubes or rectangles and can be loaded for storage or trash. They're stackable, and ours are manufactured to be used with rotating forks on a forklift for easy movement or dumping sideways into a dumpster.
We manufacture forklift scoops and hoppers for use with a pettibone or telehandler, perfect for construction site storage or waste removal. We also make small 2-yard and 3-yard dumpsters on wheels.
Understanding Hoppers: Trash or Storage?
Hoppers come in a range of shapes and sizes, but they're all designed for the seamless transportation of materials. Depending on your purpose, you can utilize hoppers as either:
containers for waste removal
containers for parts of material storage before use
The type of hopper that best suits you will be determined largely by whether it's intended for garbage disposal or keeping items organized!
We make hoppers in a variety of standard sizes, including low-profile hoppers that will slide underneath a workbench. But we also customize hoppers for customers all the time! If you've got an idea that would make your business easier, we can probably make it happen.
Types of Hoppers At Creekside Manufacturing
Creekside Manufacturing is known for providing efficient hopper solutions that can effectively manage your material handling needs.
Included in our selection are self-dumping hoppers, bins compatible with forklift rotators, scoops connected to a forklift, as well as Pettibone dumpsters. We also now make small dumpsters on casters, much like a 2-yard dumpster you might be familiar with outside of small businesses.
1. Self-Dumping Hoppers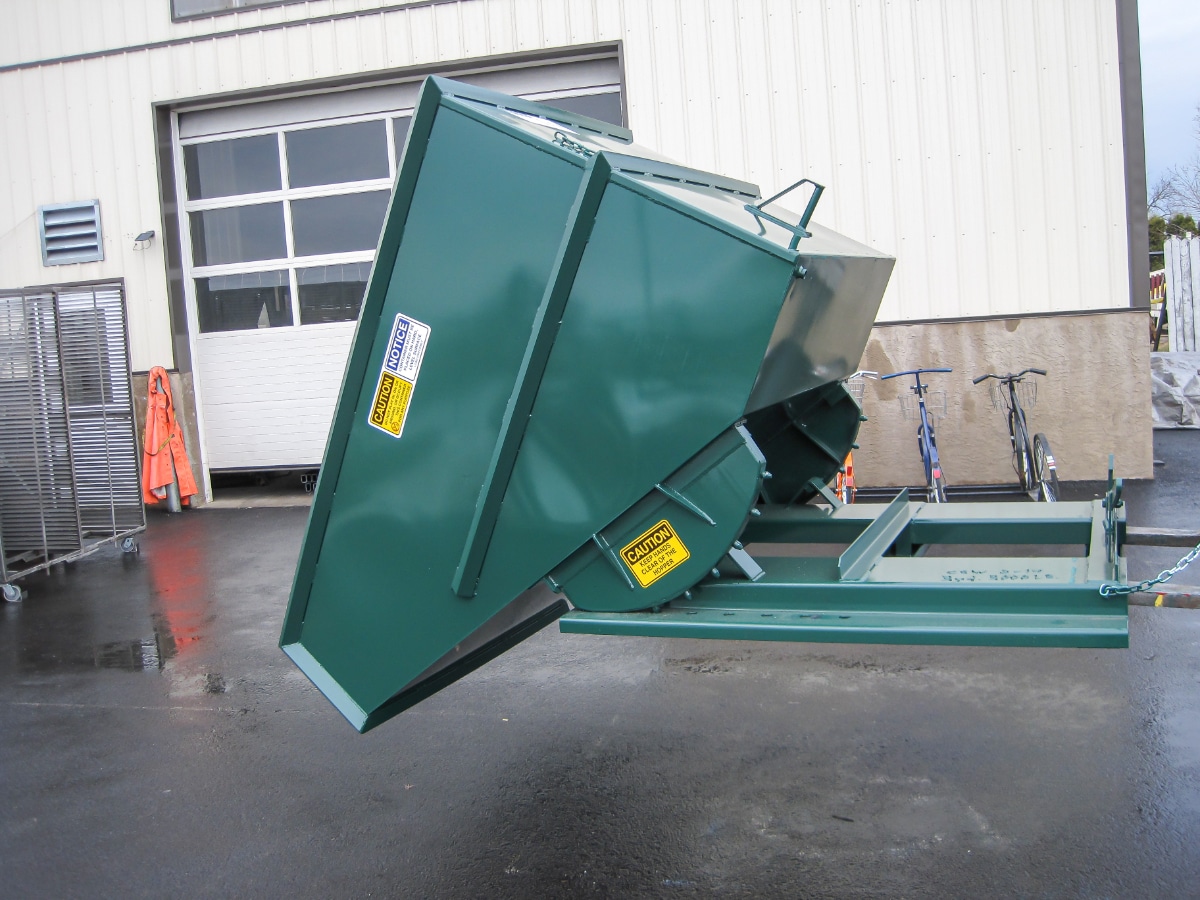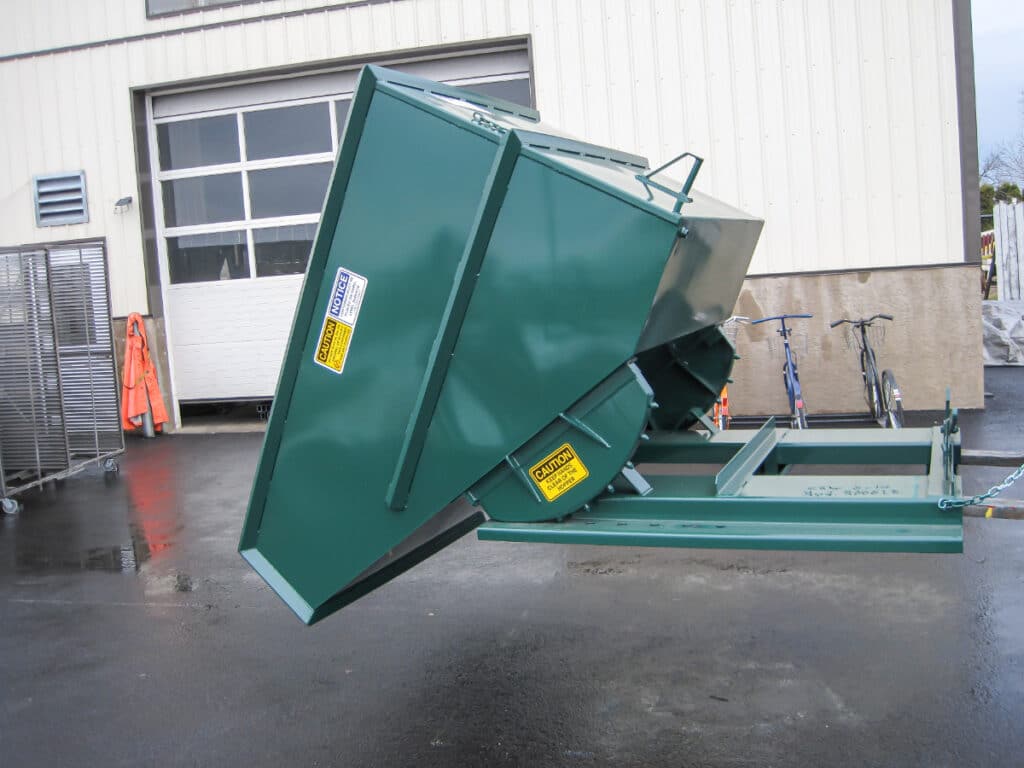 Self-dumping hoppers are becoming a more and more popular option, as they allow for easy transportation, storage and unloading of materials with the aid of a forklift and minimal physical labor. They're certainly safer than heaving trash cans up into a dumpster!
Usually constructed from resilient welded and painted steel (though we build with aluminum and stainless steel, too), these durable hoppers can be used with any forklift, which slides beneath the hopper. The hopper sits on a swinging hinge, and when a pin is released it dumps the contents forward, releasing the material at whatever height your forks are before self-returning to its original secure state when done dumping. Self-dumping trash hoppers make unloading trash easy and safe.
Our self-dumping hoppers are available in a wide range of sizes (as small as 1/4 yard up to 6-yards-plus), varied profiles (like low-profile options to slide underneath a manufacturing bench), in numerous materials (including stainless steel and aluminum), and with a range of accessories, including lids and casters for increased mobility.
2. Bins for Forklift Rotators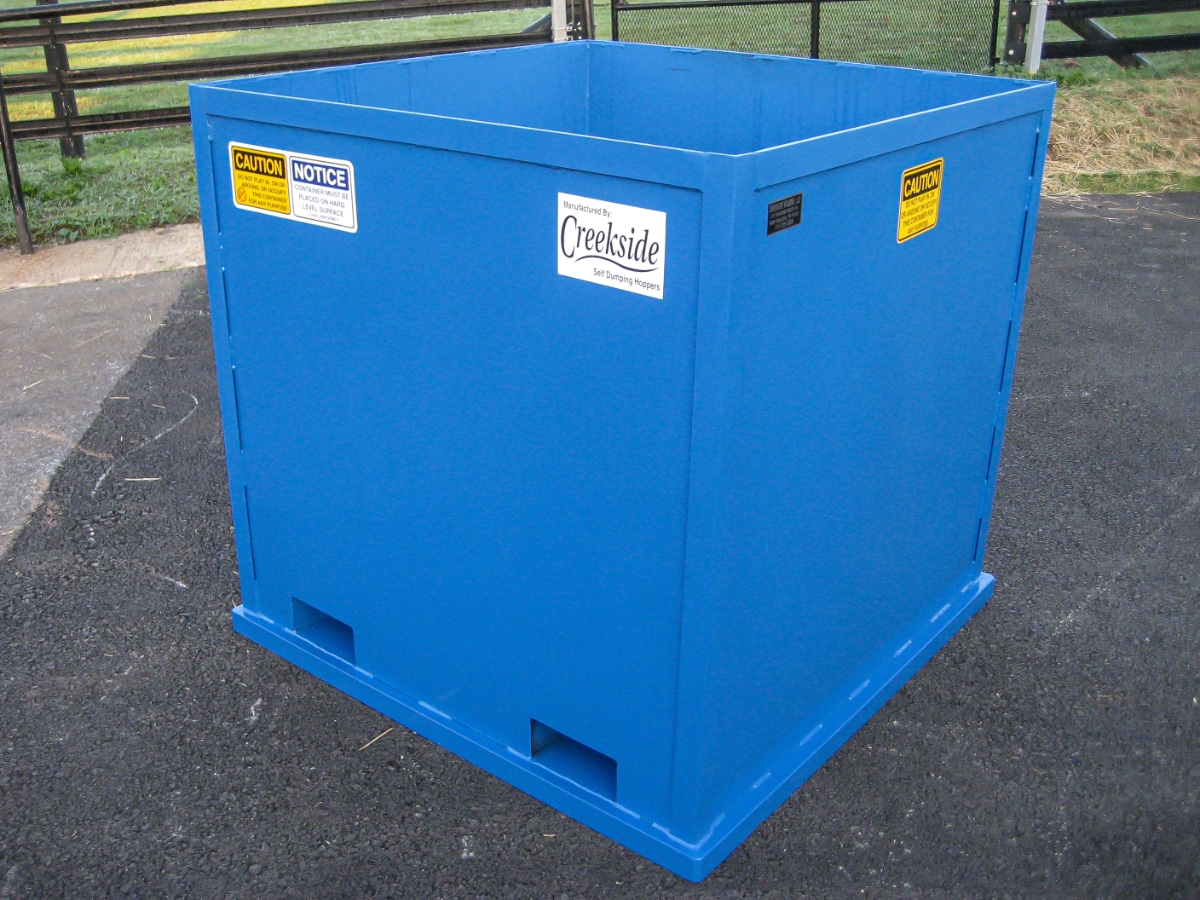 Forklift bins with no moving parts are a popular option in material handling as they offer convenience for limited space environments. We call them rotator forklift bins, and because they're stackable, these containers provide great storage efficiency.
Ideal for storing and transporting small parts in manufacturing facilities, they're also commonly used for finished products like fertilizers, cereals, and detergents. We frequently manufacture forklift bins for the pharmaceutical and food handling industries, but they can really be used about anywhere.
Ours are designed to be used with any forklift forks, but they work exceptionally well with forklifts equipped with rotator forks, meaning they can rotate 180 degrees to dump their contents anywhere you need. Some businesses use them for trash handling for this reason.
3. Forklift-Mounted Scoops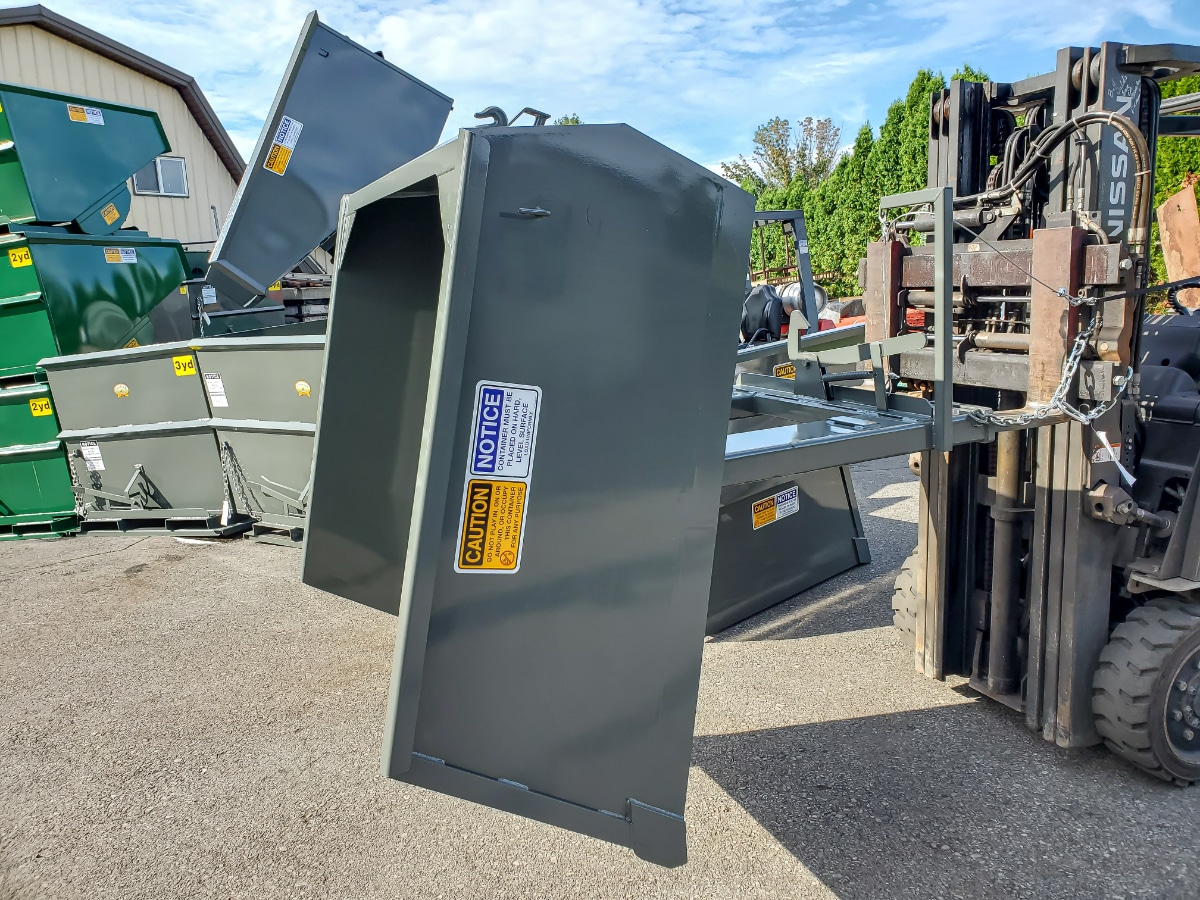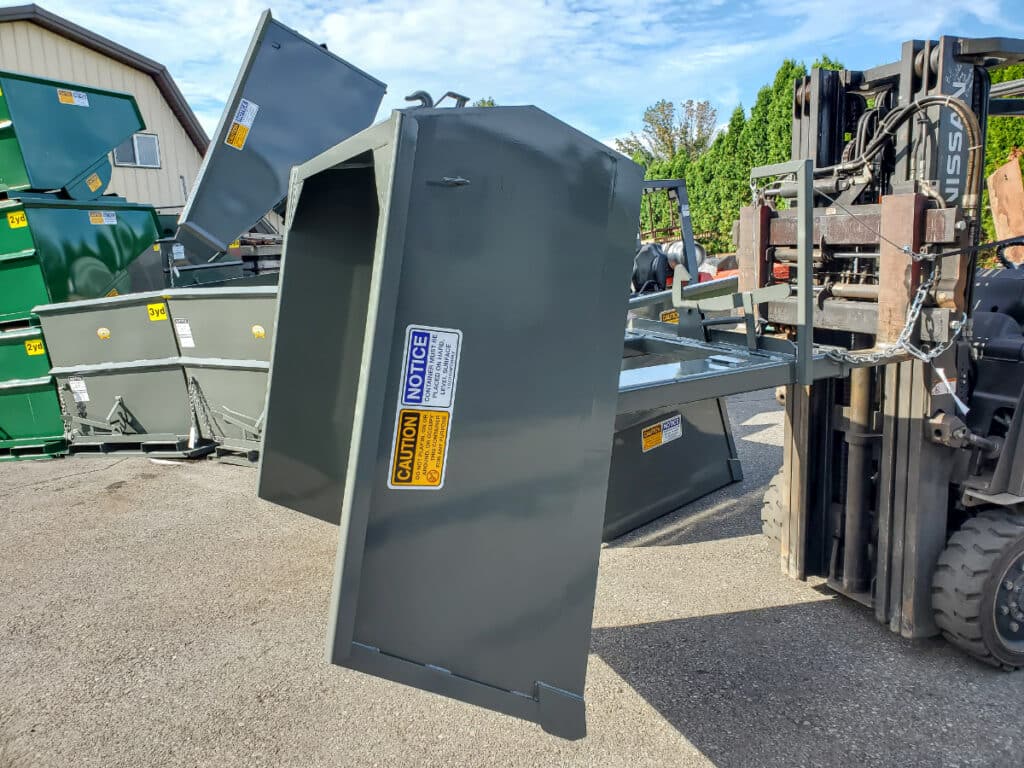 Creekside Manufacturing's forklift mounted scoops are an efficient solution for quickly loading and tipping a variety of bulk materials, such as sand, gravel, coal and more. With the help of this type of dumping hopper attachment on your forklift, you'll find it easier than ever to move grit, topsoil snow or any other kind of material without needing a separate snow-moving or scooping machine.
These attachments offer great strength while supporting up to 4000 or 6000 lb of bulk materials so that you can transport heavier materials with ease.
4. Pettibone Dumpsters and Hoppers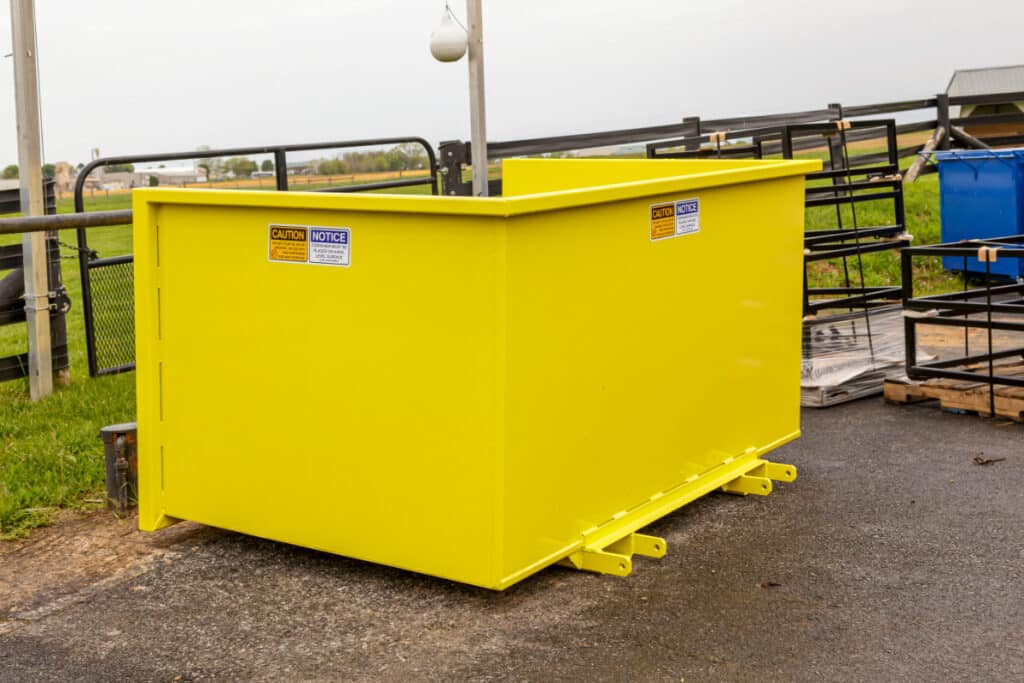 Pettibone hoppers and dumpsters are recognized for their durability and dependability in material management, storage, and loading at heights. Made from tough steel, they're suitable for use with all kinds of telehandlers, making them great for construction sites or roofing operations where waste management at elevation is necessary.
Overall, most hoppers we make for telehandlers are used in the construction industry, for scrap materials or bulk materials on the worksite.
Specialized Hopper Types and Features
5. Bottom-Drop Hoppers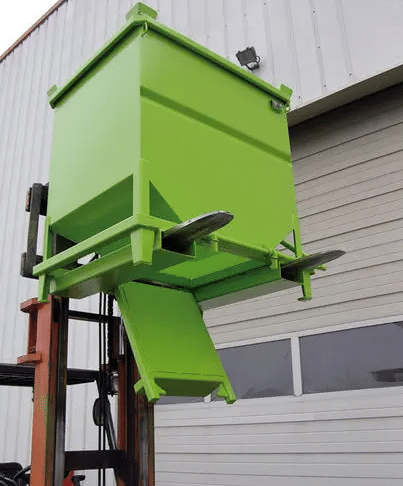 Bottom-dump hoppers are engineered to enable easy dumping from the bottom of the container using a hinged door mechanism. They also sometimes offer precise control of material delivery.
Their innovative design permits the discharge of materials or goods from underneath, providing an accurate and controlled release system. Typically used in food or pharmaceutical manufacturing, these hoppers can be customized for just about any objective.
While this isn't a type of hopper that we manufacture (though maybe we will manufacture bottom-dumps someday), it does have a use in niche industries.
6. Liquid-Containment Hoppers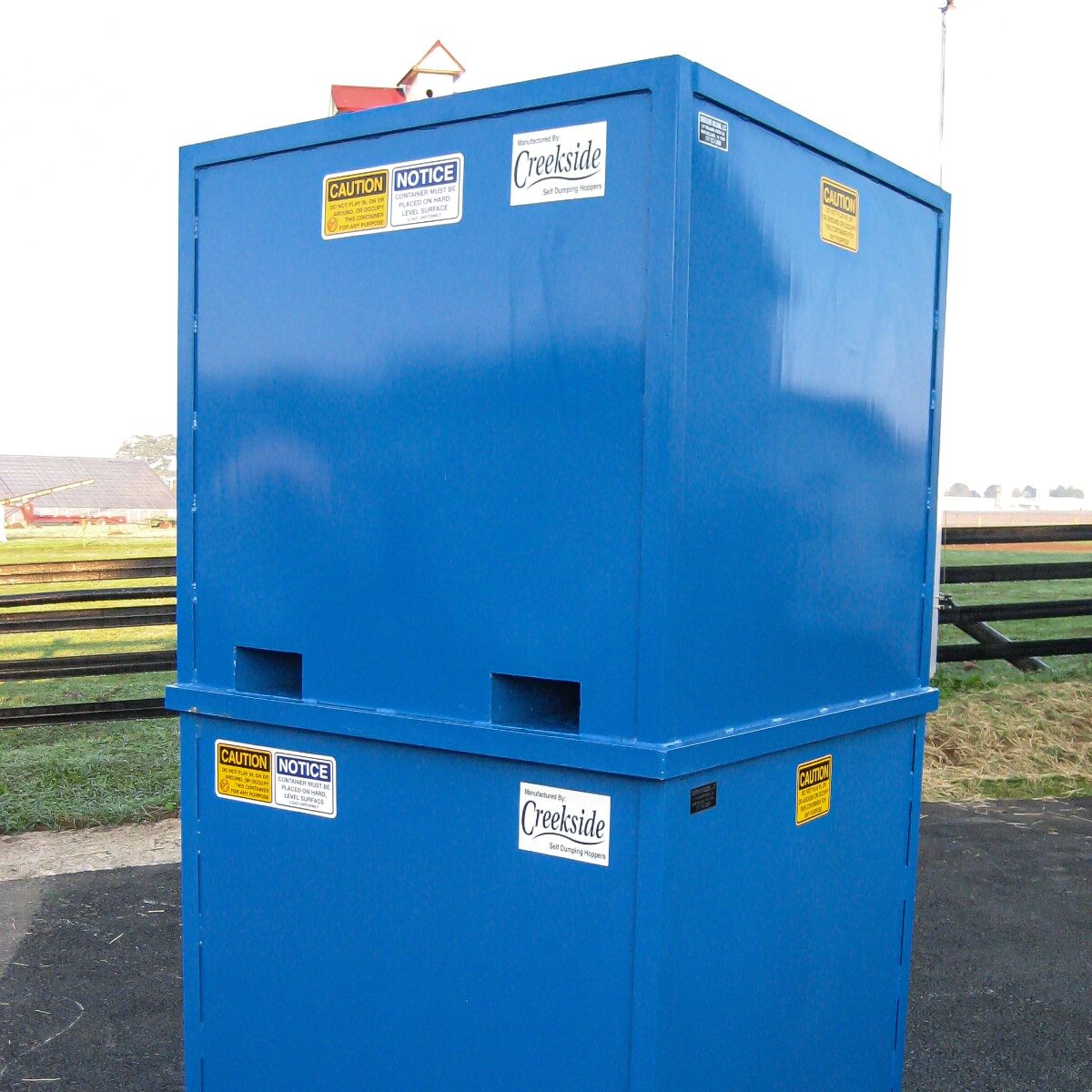 Liquid-container hoppers, also known as waterproof hoppers, are specifically made for the purpose of safely storing and transferring liquids while keeping a consistent moisture content and avoiding corrosion!
Featuring stainless steel or aluminum construction with leak proof seals and fitted covers to prevent spills or leaks, these resilient containers can transport even hazardous acids and alkalis without risk of an accident during transit. They're perfect for industrial purposes where corrosive elements require safe transportation or storage.
Hopper Materials and Construction
Most of our hoppers are fabricated with strong and durable painted steel.
If there's a need for resistance against corrosion in pharmaceutical or food production, for example, we can weld with stainless steel and aluminum. It all comes down to the type of materials that will come into contact with the hopper as well as any industry-specific requirements!
Frequently Asked Questions
What is a metal hopper?
A hopper, usually constructed of metal, is a device used for efficiently transferring bulk material such as manufacturing scraps, recycling, and parts. Specialized hoppers, like self-dumping hoppers, make the task simpler.
What types of hoppers does Creekside Manufacturing offer?
At Creekside Manufacturing, we offer a variety of self-dumping hoppers and other dumping containers that can be utilized with forklifts. We also make scoops for forklifts, pettibone dumpsters, and trash hoppers. All of our hoppers and dumpsters can be customized to the size and profile you need.
What is the difference between self-dumping hoppers and bins for forklift rotators?
Self dumping hoppers do just that: dump on their own. They have a hinge and swing-arm mechanism to let the hopper dump itself forward, typically off of a forklift and into a dumpster. Forklift rotator bins act as a static container that can then be turned over 180 degrees using either a bin dumper or the rotating capability of a forklift.