Small and built on casters for mobility, a small dumpster is often great for bagged trash. They're also often the first place a small business begins their trash journey.
Businesses that are outgrowing their first small dumpster often turn to more innovative and efficient solutions like self-dumping hoppers or rotator forklift bins, which can be loaded with debris indoors at workstations and then moved outdoors with a forklift to be dumped into a larger roll off dumpster. Tilt carts are another option for businesses that use trash bags; they're not ideal for "loose" waste like manufacturing debris.
We talk to a lot of business owners, carpentry shop managers, and manufacturing companies who are considering a small dumpster for their workplace trash, often generated inside a building.
For them, a small dumpster – like a 2 yard dumpster or 3 yard dumpster – is often the first thing that comes to mind as a compelling way to collect trash near workstations and then roll it outdoors. Other common alternatives to small dumpsters include tilt carts, sometimes called tilt truck trash carts, or simply a bunch of 55-gallon drums that they dump into an outdoor dumpster weekly.
The common theme isn't that these business owners are necessarily trying to get a 2 yard dumpster – their goal is to make handling trash inside their facilities easier, faster, and safer for their team members! Less manual pickup, more time producing goods. And while all of these can work, depending on your industry and type of trash you're getting rid of, one trash receptacle might be better than another for space, time, and cost.
At Creekside Manufacturing, we've talked to enough businesses to know that many who set out to get a 2 yard dumpster or 3 yard dumpster could actually benefit from the size and ease-of-use of a self-dumping hopper. (Though we're now a 2 yard dumpster manufacturer, too!)
Here are some specifics on small dumpsters, self-dumping hoppers, and trash bins for the workplace, with pros and cons to help you make an informed decision on getting waste OUT of your facilities easily.
Small Dumpsters: The Basics
Small dumpsters like this 2 yard dumpster can be great for waste disposal when all you need is for your trash to be hauled away by your local waste service.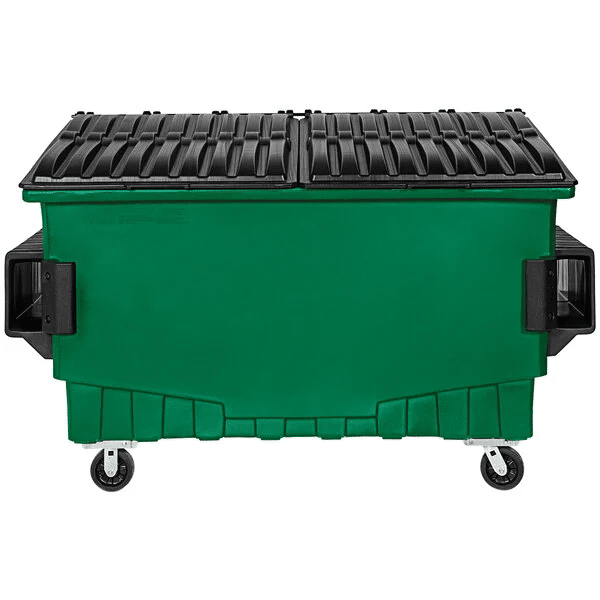 2 cubic yard dumpsters like the one above can be bought or are available for rent from many trash companies. They are usually used as the sole trash receptacle for a business, stored outdoors. They accommodate the front forks of a large trash truck, which grab the 2 yard dumpster's sides, lift it overhead, and dump it into the waste container on the back of the garbage truck.
You'll of course have seen similar 3 yard dumpsters and 4 yard dumpsters, all the way up to 8 yard dumpsters, which are usually over 6 feet tall.
Dumpster rental pricing will vary, but in Central PA where we're located the cost for most trash service companies to leave a 2-yard dumpster, with weekly or bi-weekly pickup, is around $150/month.
Pros: Good for small businesses that mostly bag their waste. Streamlined pickup through a local waste service.
Cons: Growing businesses and those in manufacturing or industrial settings will fill these quickly, and waste that is not bagged is not ideal.
2 Yard Dumpster Dimensions
So how big is a 2 yard dumpster? A 2 yard dumpster holds 2 cubic yards of waste. They are usually 6′ wide x 3′ deep x 3′ high.
You'll be able to fit about four or five 55-gallon drums of trash into a 2-yard dumpster.
3 Yard Dumpster Dimensions
A 3 yard dumpster holds 3 cubic yards of waste. They are usually 6′ wide and roughly 4′ deep x 5′ high.
Are 2 Yard or 3 Yard Dumpsters Good For Indoor Use?
Unfortunately, small dumpsters like these are generally not ideal for an indoor location, as your local trash service will need to be able to get to the dumpster with a garbage truck. Unless you're willing to move your containers in and out of the building on trash day, it's just not an ideal way for businesses resolve waste issues indoors.
What's The Smallest Dumpster You Can Rent?
2 yard dumpsters are generally the smallest dumpster that you can rent from your local waste hauler.
Alternative 1: Self Dumping Hoppers
Creekside Manufacturing is a Pennsylvania manufacturer of high-quality self-dumping hoppers. These containers are perfect for businesses that generate debris indoors, like manufacturing facilities, wood shops, machine shops, and more. They can even be used for construction debris or with a pettibone telescoping lift on a job site.
Pros: Ideal for businesses that generate waste indoors or at a location that needs to be removed regularly. Easy to use with a forklift, requiring no physical labor to unload debris. Stackable.
Cons: Still require a larger dumpster or trash receptacle outdoors. Higher upfront cost than some alternatives.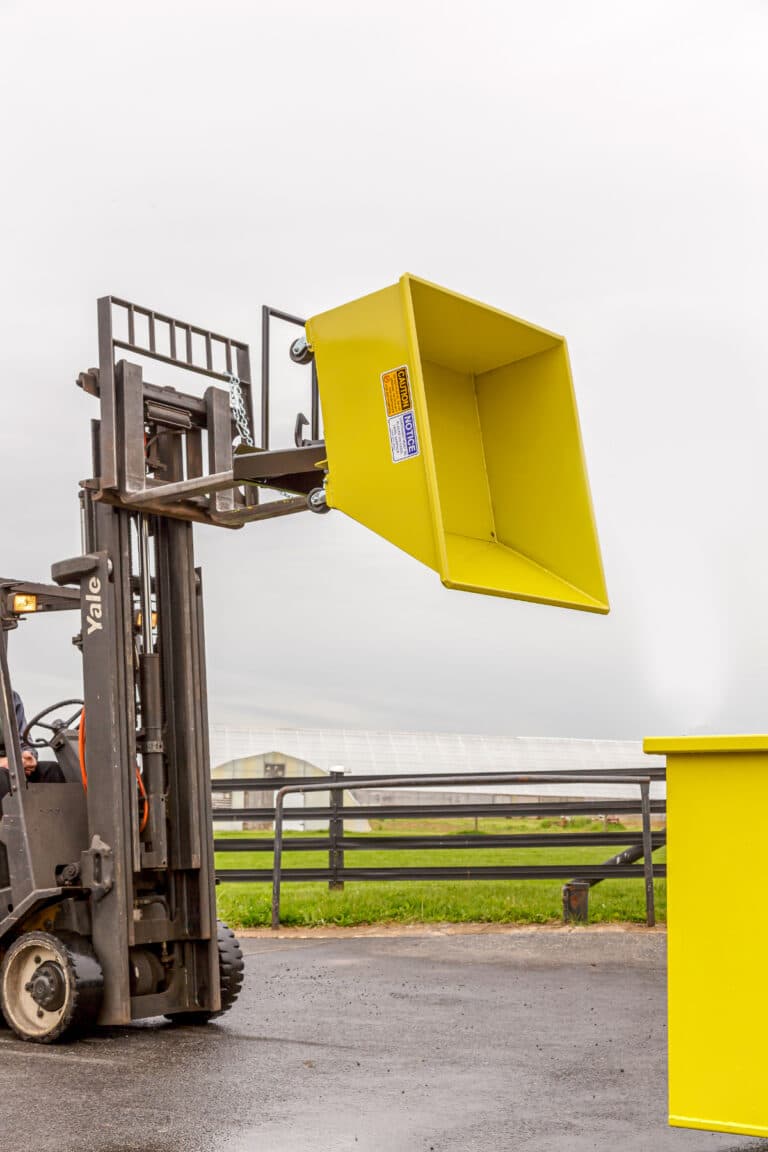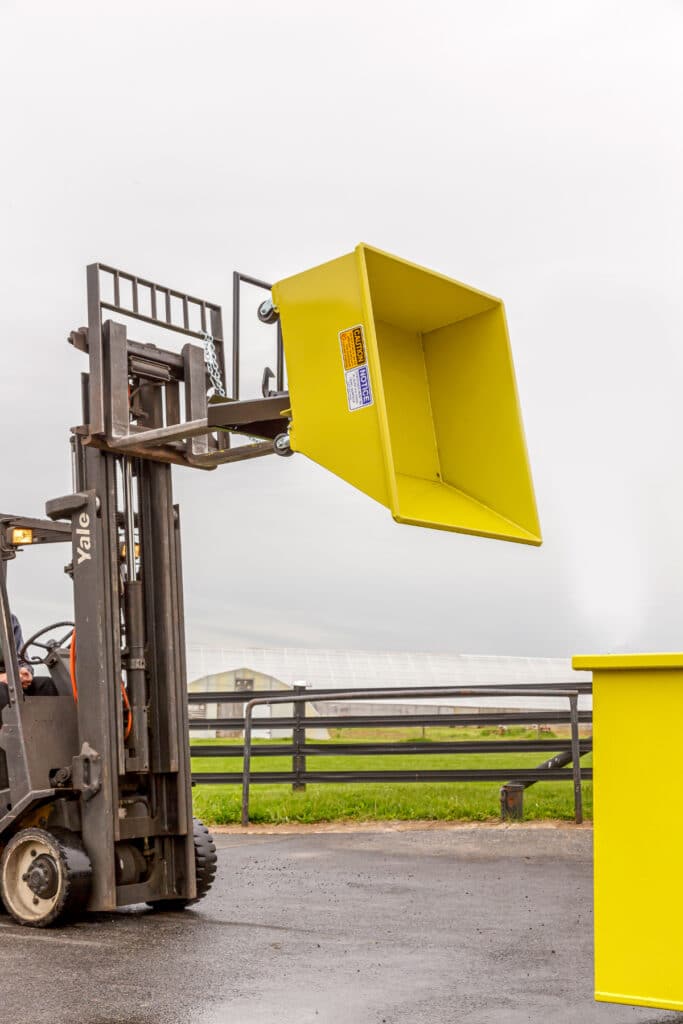 The beauty of a self-dumping hopper is simplicity of use and size. We build a wide variety of sizes (and we do custom sizing), and they're often built to be able to slide under or next to your machinery where waste is generated, saving space in your shop. The container has forklift pockets to be lifted and moved outdoors to a larger dumpster, and a self-dumping mechanism and hinge, allowing it to be dumped from the driver's seat of the forklift.
By automating the dumping process and being easily transportable, self-dumping hoppers increase efficiency in the workplace and significantly enhance safety in various material handling processes – saving your business valuable production time.
Our smallest and most popular self-dumping hoppers are our BCS-5 model (1/2 cubic yard) through CS-40 (4 cubic yards). These sizes are also stackable, making them great for storing parts, too!
See our full self-dumping hopper lineup, dimensions, weight limits, and pricing by clicking here.
Alternative 2: Forklift Rotator Bins
A rotator forklift bin, often referred to simply as a "rotator bin" or "tipping bin," is another container that's easily stored indoors and moved with forklifts or lift trucks. They're designed to handle, store, and dump materials, much like the self-dumping hopper mentioned earlier. However, instead of the bin itself having a tipping mechanism, the forklift's rotator attachment provides the tipping or rotating function, usually able to spin around a 180-degree axis.
Pros: Customizable with many size options and perfect for storage as well as waste handling. Stackable.
Cons: Require a rotator attachment for a forklift. Usually made without sloped sides.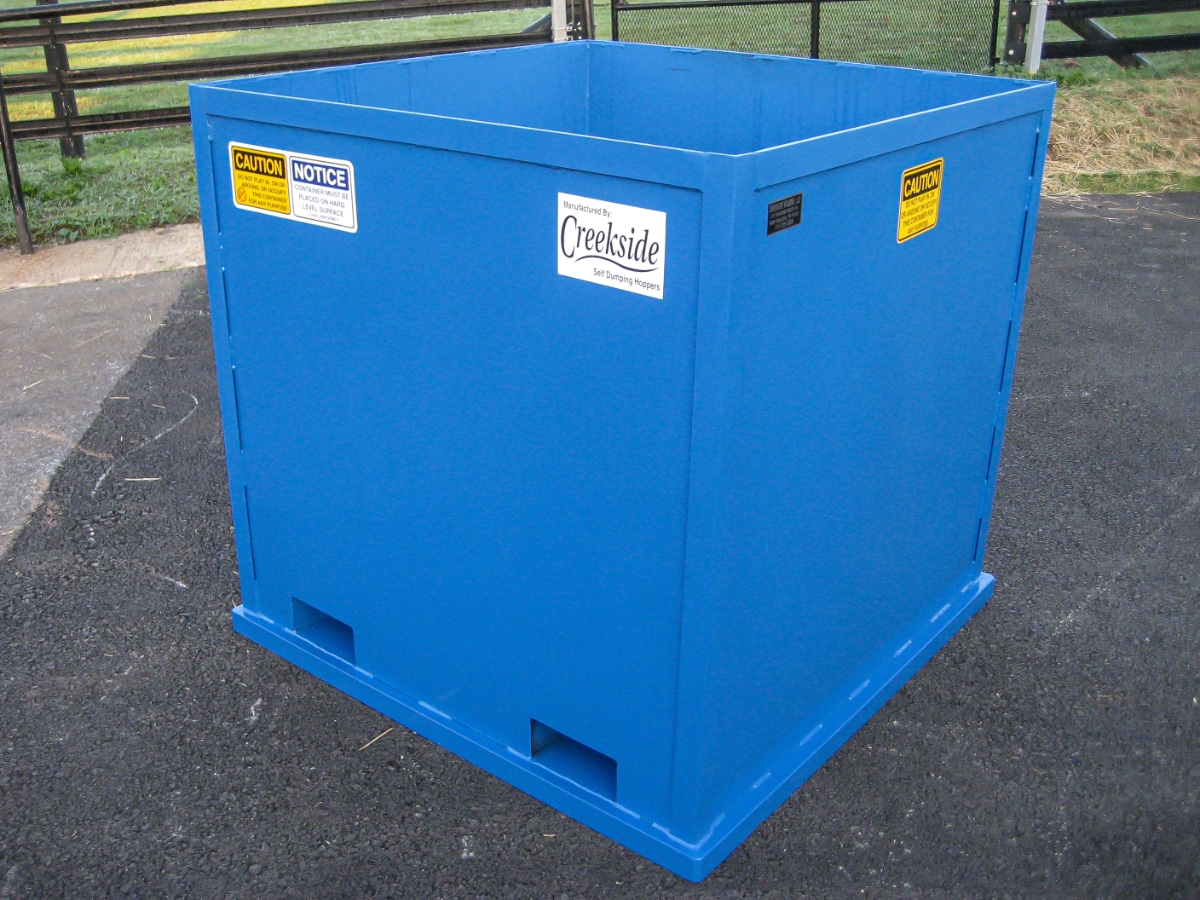 See our full forklift rotator bin lineup, dimensions, capacities, and pricing here.
Forklift rotator bins have forklift pockets and are convenient for storage because they are stackable. They can also be made to hold liquids or powders, frequently used in pharmaceutical or food manufacturing settings.
Of course, without a forklift rotator attachment, this won't be a good fit for many businesses.
Alternative 3: Tilt Carts
A trash tilt cart, also known as a tilt truck or tip cart, is a large utility cart for the collection, transport, and disposal of waste, recyclables, or other bulk materials. These carts are commonly used in settings like hospitals, commercial buildings, schools, hotels, and other places where there's a need to collect and transport a significant volume of waste or materials. Importantly they're most efficient when the trash is already in garbage bags.
Pros: Inexpensive and great for indoor use in "finished" spaces, like hotels or school hallways. No forklift required.
Cons: Don't always work well with "atypical" waste that is not bagged. Still require considerable physical labor to empty.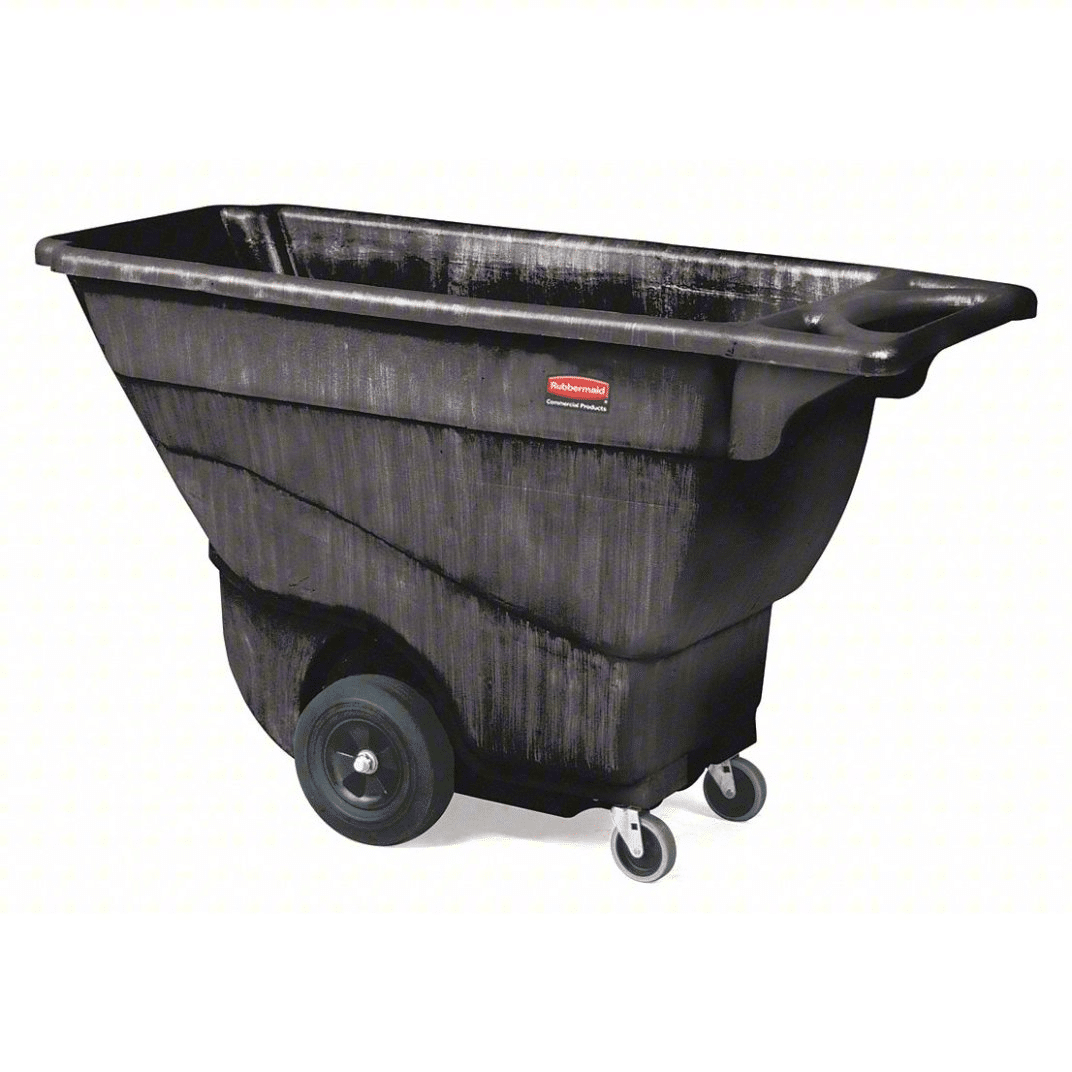 The cart is usually rolled on its wheels outdoors to a dock, where it can be tipped into a roll off dumpster or similar for pickup, or unloaded by hand when the waste is in bags.
A tilt cart will be the lowest cost of the options mentioned here, typically running a few hundred dollars.
Alternative 4: Trash Cans or Barrels
Many small manufacturing businesses rely on standard large trash cans or second-hand barrels, which are filled throughout the day and then hauled to an outdoor dumpster by hand or with a cart, then emptied.
Our self-dumping hoppers are first and foremost about avoiding the old-fashioned way! Many of our new self dumping hopper customers are replacing a somewhat dangerous but necessary process that involves placing barrels on a pallet, lifting the pallet above or the side of a roll off dumpster with a forklift, then tipping them into the dumpster.
Pros: Inexpensive or even free, they can hold a good amount of waste. Good for small businesses that don't need daily trash removal.
Cons: Require considerable manual labor for regular waste removal, introducing the risk of injury.
Find The Trash Handling System For Your Business
If you're here, chances are you're re-considering your current trash service or are ready for an upgrade.
Self-dumping hoppers are a great alternative to small dumpsters thanks to their convenience for indoor/outdoor use, wide size options, available accessories, and ability to be used right at a workstation.
They can work for construction projects, landscaping projects, manufacturing settings, and so much more.
If you're curious to learn more, call today for details and pricing! Our team loves helping businesses grow efficiently.
Common Questions About 2 Yard or Small Dumpsters
How much does a 2 yard dumpster weigh when empty?
The weight of an empty 2-yard dumpster can vary depending on its construction material, thickness, and the manufacturer's design specifications. Generally, a standard 2-yard dumpster made of steel weighs between 200 to 500 pounds when empty.
What is the weight limit on a 2 yard dumpster?
The weight limit for a 2-yard dumpster typically ranges between 400 to 800 pounds, but this can vary.
How many gallons in a 2 yard dumpster?
A 2 yard dumpster should hold about 400 gallons.